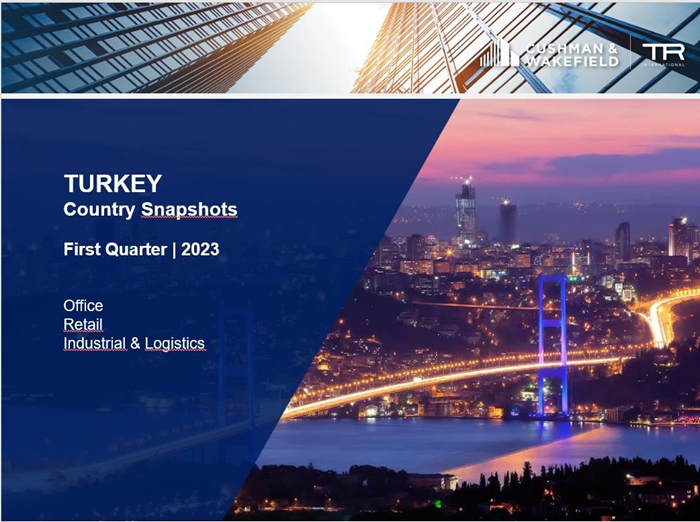 TURKEY REAL ESTATE MARKETOVERVIEW Q1 2023
OFFICE
Office prime rents remain at the top with a five-year high in US$
The February 6, 2023 earthquake catastrophe caused fatalities and had an effect on the eastern regions of Turkey as well as other neighbouring provinces and countries. This earthquake has sparked various discussions regarding Turkey's earthquake-prone building supply. As a result, occupiers and investors in commercial real estate have started to require ground survey reports, particularly data on earthquake resilience. Additionally, new leasing deals and contract extensions picked up steam before to the election on May 14.
The first quarter of the year saw a continuation of the rise in prime rents in TRY and US$ terms due to growing inflation and ongoing currency rate volatility. Additionally, fewer transactions were made as a result of the global economic crisis brought on by the epidemic, the recession, and the unpredictability surrounding the next general election in Turkey. Despite this, low vacancy rates are still being observed despite rising demand for grade A offices and the central business district (CBD), where accessibility is excellent.
RETAIL
Istanbul's main street rents have returned to 2018 levels
High occupancy rates observed in both streets and shopping centers caused by high demand. As a result of this predicament, brands are having trouble finding empty stores. Despite limited availability, brands continue to declare their expansion plans. Furthermore, particularly for major companies that want earthquake resistance report for existing stores or new store before lease. The impacts of the decrease in store vacancy and the increase in demand remain consistent.
Brick & Mortar is in high demand in the first quarter of the year. Rents continue to rise in both ₺ and US$, despite a limited supply and high occupancy rates in both shopping centers and high streets. The prime rent level on Istanbul's high streets grew by 67% in dollar terms in this quarter compared to the same period last year. Likewise, considerable rent rises have been observed in shopping centers that perform well.
INDUSTRIAL & LOGISTICS
Due to the continued high demand and limited supply, square meter rents in dollars increased by 45.5% over the previous year
The earthquake disaster caused destruction and deterioration in industrial facilities in the eastern part of the country, causing disruption of production. Furthermore, the massive loss of workers has significantly reduced production in the region. After the earthquake, many people migrated from the earthquake area to other regions; has decided to move the production facilities of many companies to other regions of Turkey, especially Central Anatolia.
This year, the rental activity in the real estate industry, particularly among international companies, has been slowdown due to the worldwide economic recession. In the previous quarter, there was a decrease in the number of warehouses rented in and around Istanbul compared to the prior period. However, the prime rents have continued to rise and have increased by 45.5% compared to the previous year. This upward trend is expected to persist in the near to medium-term, as there is a consistent demand for warehouse space.
---